A brief background on Bandai Creation and their Godzilla Series.
Bandai Creation still lives. As you may know, this small division with our favorite toy company started producing a few new Godzilla figures, box sets, and DX figures for the past few years. These figures gives many fans something new to collect and provide the opportunity for non-collectors to own something Godzilla. If you have children, these would be perfect figures to let them play without the worry of damaging the figures as these are easily accessible to buy a replacement at KB toys, KMart, ToysRus, and CVS. Unfortunately KB Toys went out of business as they were the ones where G-figs first showed up and they usually stock up on lots of these figs. Surprisingly BC is still producing a Godzilla line after all these years and they just appear out of nowhere without announcement.
Here are the items that they have produced:
Series 1:
6.5" Figures
Godzilla 1954
Burning Godzilla
Gigan
Rainbow Mothra
Box Sets:
Pack of Destruction (Godzilla'54, Burning Godzilla, Manda, Destoroyah (Final), Destoroyah (Aggregate), Mothra Imago'96 (Adult), Mothra Leo Larva), Minya, Gigan, Moguera,
Crumble Zone (GMK Godzilla, GMK Ghidorah, GMK Mothra Adult & Larva, GMK Baragon, with City and buildings)
Series 2:
6.5" Figures
Godzilla 2001 (GMK)
King Ghidorah 2001 (GMK)
Space Godzilla
Mecha-Godzilla'93
Series 3
7" figures
Godzilla 2004 (GFW)
Rodan 2004 (GFW)
Anguirus 2004 (GFW)
Gigan 2004 (GFW)
Series 4
7" figures
Godzilla Millennium (2000)
Godzilla 1968
Hedorah
12" DX Figures
Godzilla (Final Wars)
Mecha-Godzilla (2003)
Series 5
7" figures
First Godzilla (new sculpt of G'54)
Mecha-Godzilla (1974)
Godzilla Millennium (2000)
Godzilla 1968
Hedorah
Destoroyah (Final)
Anguirus 2004 (GFW)
12" DX Figures
Gigan (Final Wars)
Godzilla (Final Wars)
Mecha-Godzilla (2003)
This time around was a surprise and came earlier than expected. The first siting of the new Mecha-Godzilla'74 and Godzilla'54 was last week. After a weeks wait, my ToysRus finally got a new batch of Goji figs and had the 2 new figs! MG74 is the more popular fig as there was only 1 left and I'm so glad I nabbed it. I was thinking of getting a few extra G54s but ToysRus is more expensive than the rip KB....
Both figs have lots or articulation and not bad especially for the price. The MG74 pose looked weird at first but I think it resembles a scene w/ his roar taunt before firing his finger missiles (The image on my mind is TOMG though...) or the scene where he shoots all weapons in different directions (Right Finger, knee, and toe Missiles at G, eye laser at KC, and left finger missiles towards the screen and onto the houses).
As for G'54, not bad on the side view. When looking at the front view, G really put on a lot of weight....
Anyways, enjoy the group pics below. Some pics are a little blurry. I'm not feeling well today so these are quick shots...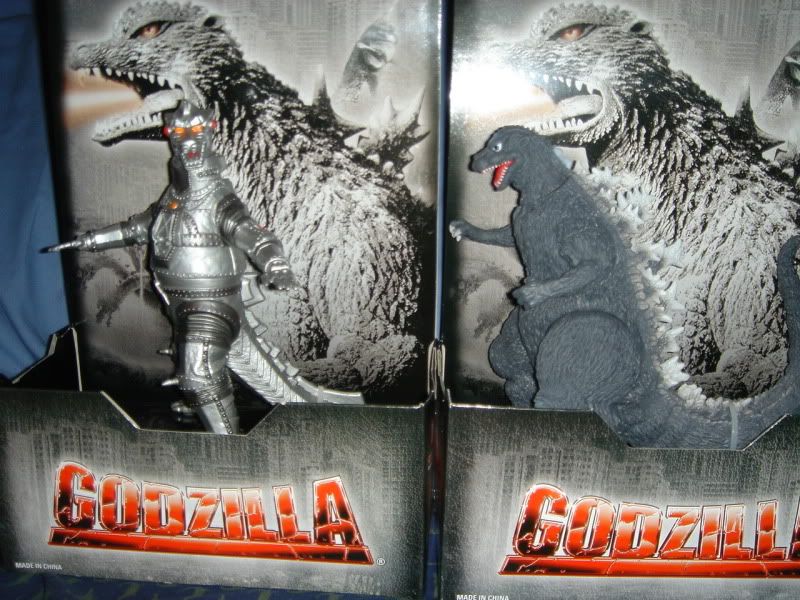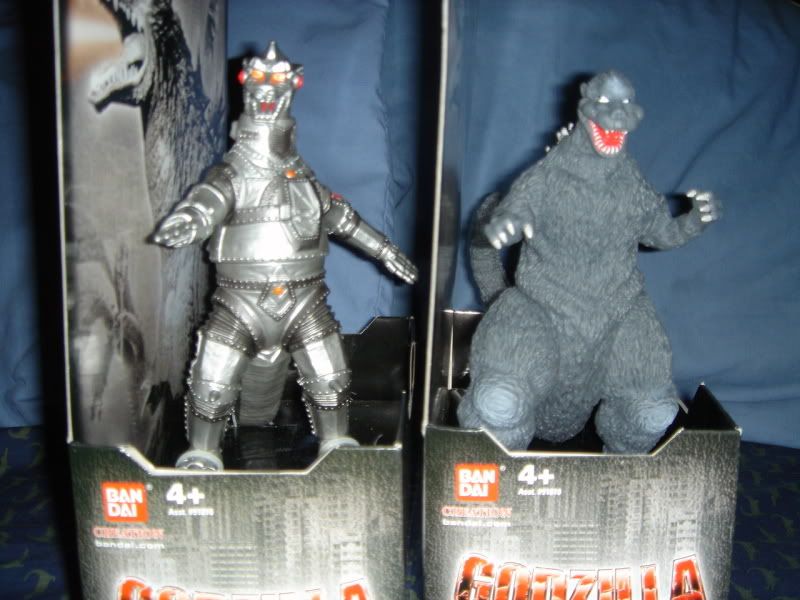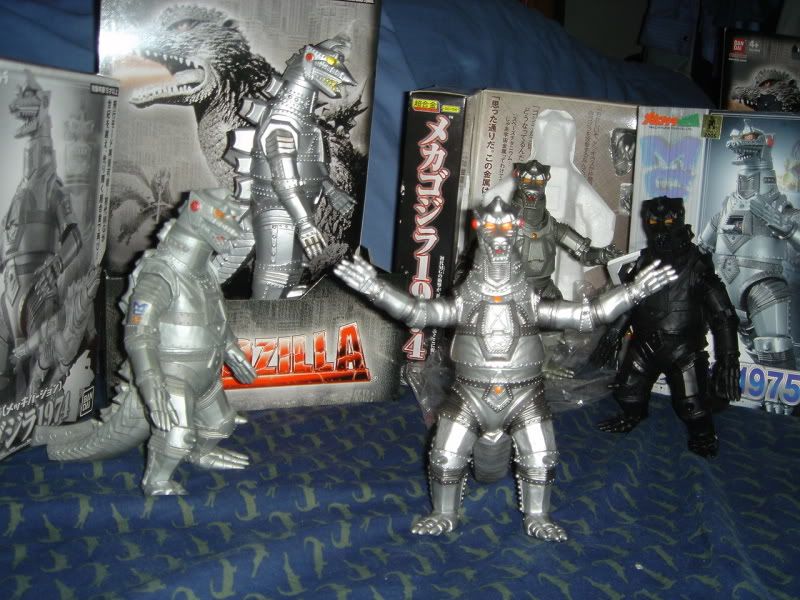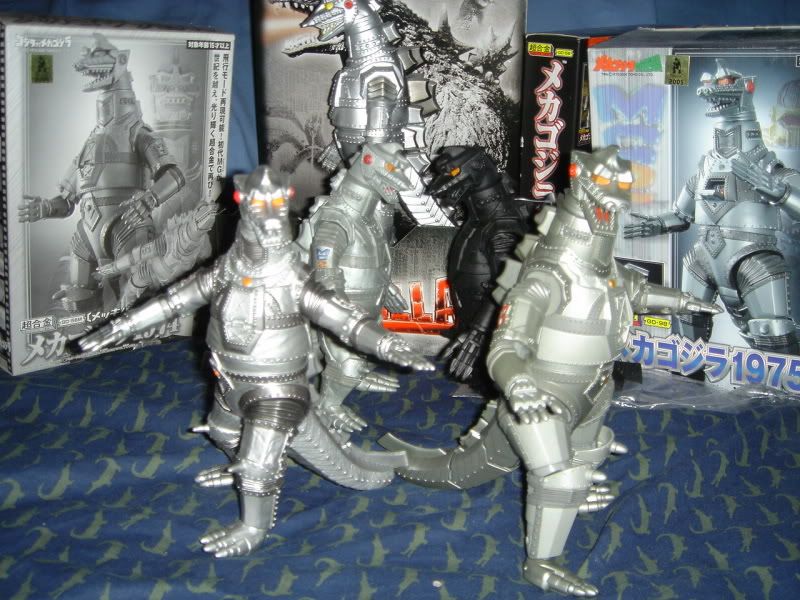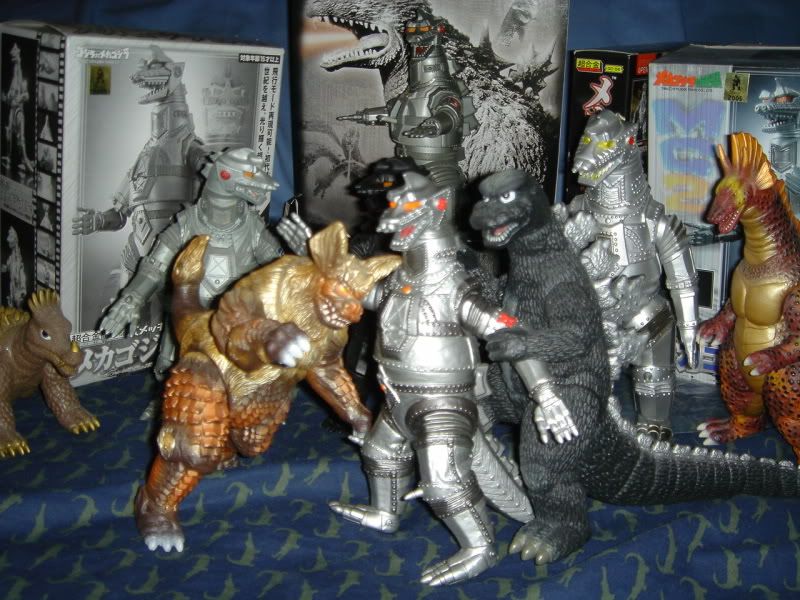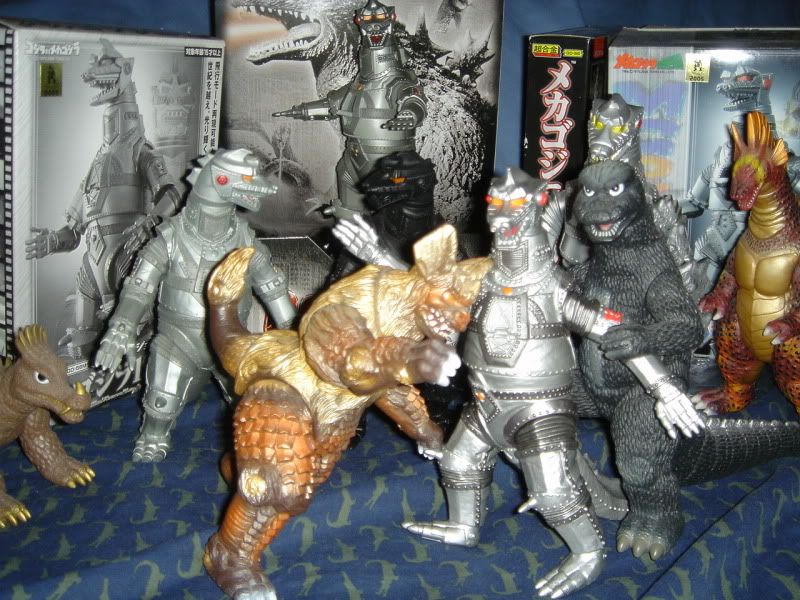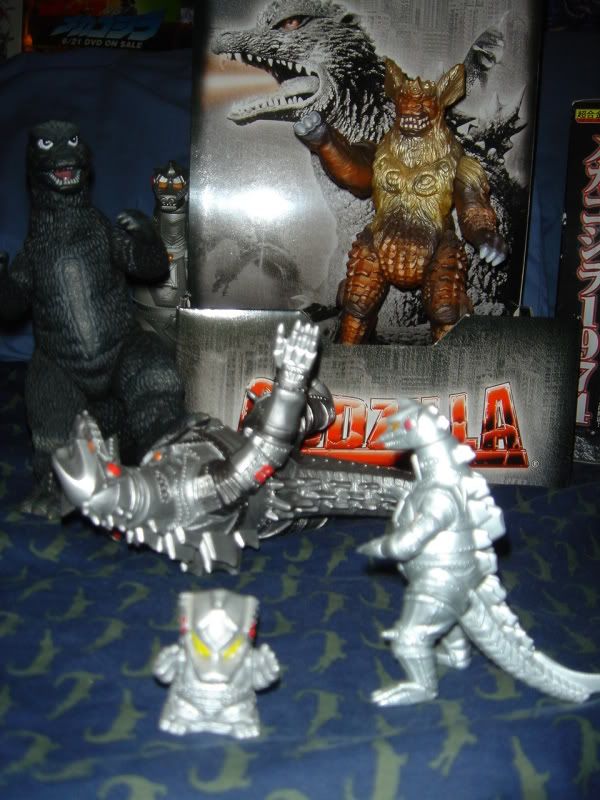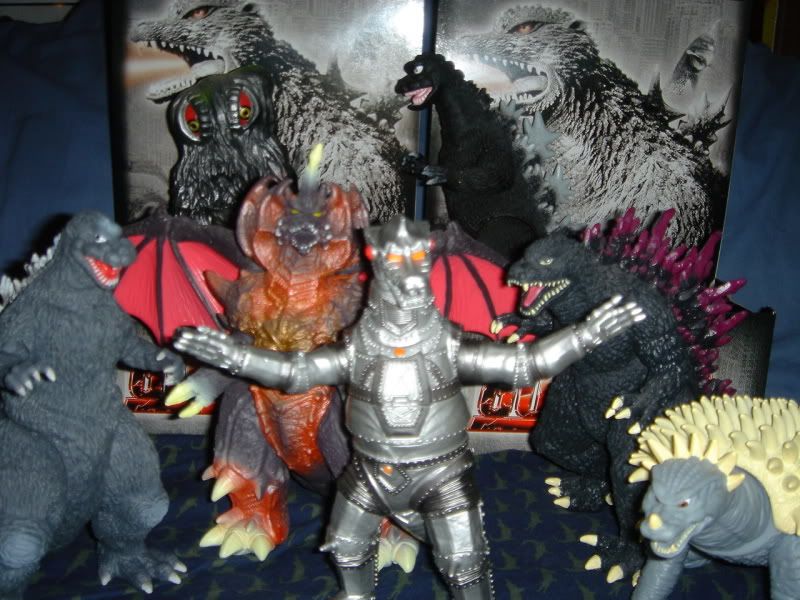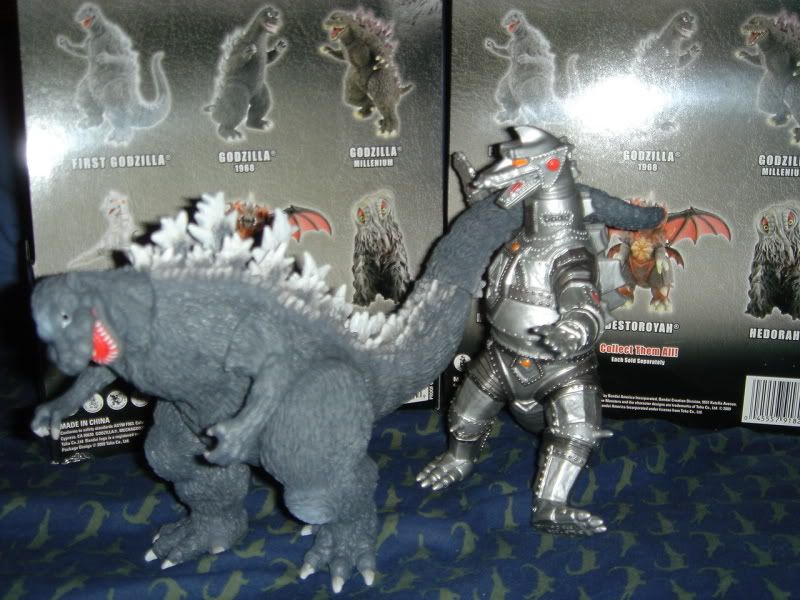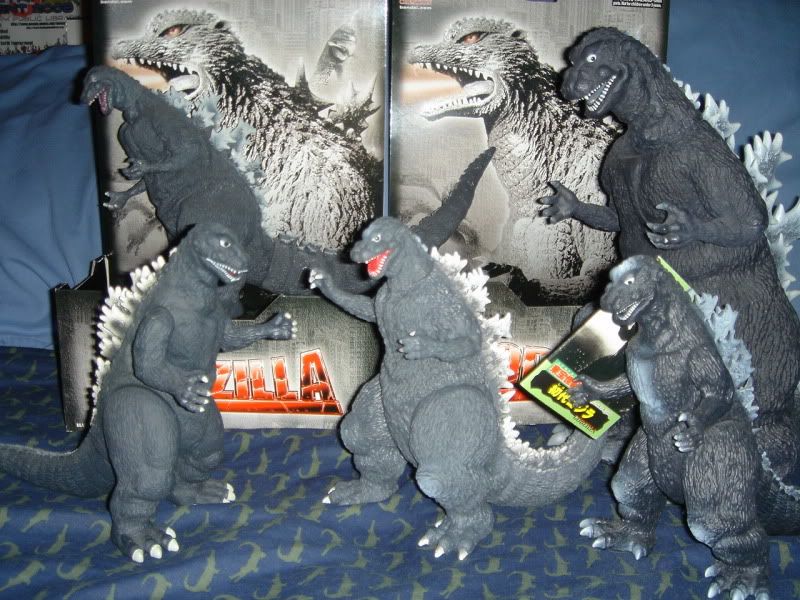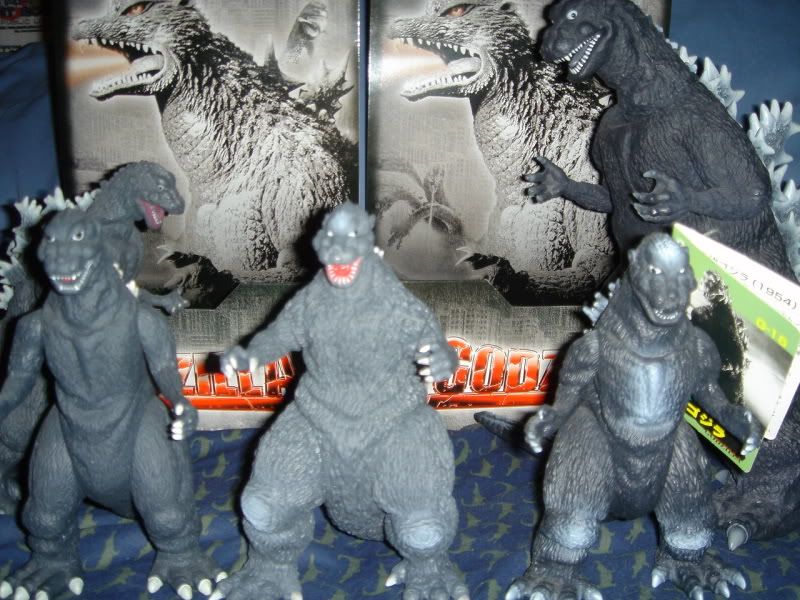 Off topic, I haven't been to a ToysRus in years! I saw original 1980s Teenage Mutant Ninja turtles figs as well as Kamen Rider Dragon Knight (Ryuki) figures. Cool stuff!